WRTC-meeting at Wittenberg
Details
On January 6th, 2016 the WARC-Organizing-Committee met at Wittenberg with a comprehensive agenda and especially the following items
evaluated the offers from antenna manufacturers, which we received as a response on our request for quotation,
planning of a WRTC-test-weekend on July 9th/10th,
preparing WRTC-presentations at ham fairs in Dayton and Friedrichshafen
discussion of the WRTC-rules
discussion of the IT-concept
Contest Club Ontario donates 1000 Euro for WRTC 2018
Details
We received a big donation by the Contest Club Ontario (CCO) today. CCO is well known for active contesters who always support us (in central Europe) with loud signals, the VE and Zone 4 multiplier - also on the low bands. The CCO is lead by John, VE3EJ. He is the president of CCO and also famous for the gold medal of WRTC 2006 in Brazil. John wrote to WRTC 2018: "Please accept this donation from the members of Contest Club Ontario towards the costs of holding WRTC 2018. We wish you good fortune in your effort to host WRTC 2018." Of course we accept the donation and we will do our very best. Many thanks to this highly motivating support!
YASME Foundation donates 3000 USD to WRTC2018
Details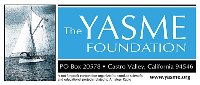 Today WRTC2018 received a big donation by the YASME foundation. YASME is a not-for-profit corporation supporting amateur radio projects. On one hand, YASME supported previous WRTCs with significant donations. On the other hand we have to mention that YASME members played key roles in many previous WRTCs as directors, referees or competitors. One of the most remarkable WRTC events was the ham widows ball in Boston 2014 organized and sponsored by YASME. Many thanks to this higly motivating support!