Teilnehmer
Team Europe - EU #2_2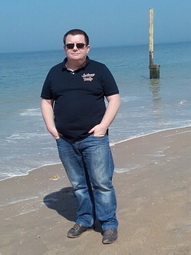 Team Leader:

Lyubomir Slavov, OR2F

Other callsigns:
ON8LDS, LZ6AJ, LZ6N, ex.LZ2LDS, ex.LZ2L
Country:
Belgium
Age (WRTC 2018):
52
Previous WRTC experience:
n/a
Occupation:
Radio Engineer
I had received my first radio amateur C-license in 1979 (13 years old) when I operated from club station LZ2KSB (member of BFRA) in my home town Balchik. I'm still member there. In that time I have had fortunate to be introduced and trained in HF-contesting by LZ2RF(sk) and LZ2ZZ (sk). Later in 2000, after passing the exam for radio amateur Class-1, I became LZ2LDS (as well as LZ2L). Last year I took my chance by changing to LZ6AJ.
My education includes a Master in Radio Engineering and Marine Communications and special upgrade in Applied Mathematics. Qualified QMS Auditor.
Me and my wife Yana, we have two wonderful children - daughter and son, both they study in U-Gent. Nobody of them share my hobby. As my wife says: "At home, one crazy headset is more than enough!".
Since 2008 we live and work in Belgium. Immediately after I got my official Belgium residence, I become ON8LDS and OR2F a bit later as well. For all this time I'm regular member of UBA section OSB (Radio club of Bruge, ON6BR).
Radio is my first love and certainly it will follow me to my last days. Radio made me and keeps making me who I am in my life, not only in contest weekends! I'm mostly interested in HF-contesting. My present challenge is to design and complete the building of my SO2R-automation.
I'm looking forward to being in a competition with the best HF contests all over and having a chance to meet some famous to me people who make up the contesting community but with whom we are only correspondents for the time being.
This is a lifetime experience made possible by the hard work of the WRTC2018 organizers and their many volunteers and I look forward to datings and friendships that will result from the coming event.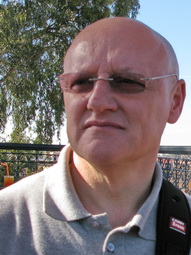 Team Mate:

Pascal Lierman, ON5RA

Other callsigns:
n/a
Country:
Belgium
Age (WRTC 2018):
52
Previous WRTC experience:
n/a
Occupation:
Contract Manager / bachelor of industrial science
I had my first licence in 1991 as ON1ALP. After I few months study CW received my full licence as ON5RA.
<<< Team Europe EU #2_1 <<<
>>> Team Europe EU #2_3 >>>
Back to overview Competing Teams