Teilnehmer
Team Europe - EU #3_4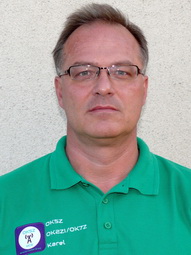 Team Leader:

Karel Odehnal, OK2ZI

Other callsigns:
OK7Z, OK5Z, 5T5OK
Country:
Czech Republic
Age (WRTC 2018):
47
Previous WRTC experience:
n/a
Occupation:
Project manager at power generation company
I received my first licence, and callsign OK2XTE, in 1993. This licence limited me to VHF/UHF/uW bands. I actually enjoyed VHF contesting and DXing.
Then, in 1995 I passed a CW exam and upgraded my licence to all bands. In 1998, after two and half years, I received 250 confirmed DXCC and was allowed to change my callsign to the shorter OK2ZI. From 1998 to 2012 I was VHF/UHF/uW Manager of the Czech Radio Club, and I have represented our country at IARU Region I meetings.
I am the founder of OL5Z and OK5Z contest stations and guest op at OK5W. We won several OK VHF/UHF/uW championships and gained several EU achievements. I won OK HF Championships, OK/OM DX contests and several international contests on many occasions. I am DXCC Honor Roll holder - with 331 countries confirmed.
In recent times, following WRTC2018 qualification, I have been busy with the construction of contest QTH for our OK5Z Moravian Contest Group.
Team Mate:

Ludek Odehnal, OK2ZC

Other callsigns:
OK3C
Country:
Czech Republic
Age (WRTC 2018):
44
Previous WRTC experience:
n/a
Occupation:
Technician
First licenced in 1993 as OK2BEE, later callsing changed to OK2ZC. In the contest OK3C, mainly CW and RTTY contesting. About 170000 QSOs from 1993 and several thousand QSOs as OK5Z and OK5W in the contests. I completed DXCC Honor Roll #1 and I have got several plagues from CQ WPX and CQ WW.
<<< Team Europe EU #3_3 <<<
>>> Team Europe EU #3_5 >>>
Back to overview Competing Teams