Sponsored Team #3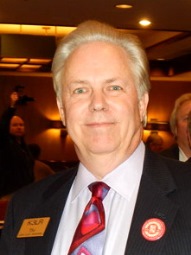 Team Leader:

Tim Duffy, K3LR

Other callsigns:
n/a
Country:
USA
Age (WRTC 2018):
59
Previous WRTC experience:
Competitor: 1996, 2002, 2006, 2010
Occupation:
Executive Engineer
Tim has been an active amateur radio operator for over 45 years. He has hosted 132 different operators from around the world as part of the K3LR Multi-Multi DX radio sport contest efforts since 1992. He was the Atlantic Division Technical Achievement award winner in 1998. Tim was moderator of the Dayton Contest Forum for 10 years and has been moderator of the Hamvention Antenna forum for 33 years. He is a founding member and current President of the North Coast Contesters. K3LR serves as chairman of Contest University (11 years), the Dayton Contest Dinner (25 years), chairman of the Top Band Dinner - as well as coordinator of the Contest Super Suite (32 years) in Dayton during the yearly Hamvention. He is founder and moderator of the popular RFI Reflector (RFI@contesting.com) since 1999. He has been a guest on Ham Nation many times. Tim was a member of Team USA at the World Radio Team Championship - four times and will operate in Germany for WRTC2018. Tim serves on the board of directors of the World Wide Radio Operators Foundation (WWROF) as Vice Chairman and the Radio Club of America (RCA) as President and a member of the RCA executive committee. Tim is President of the Mercer County Amateur Radio Club (W3LIF). Tim was elected to the CQ Contesting Hall of Fame in 2006. He was honored with the prestigious Barry Goldwater Amateur Radio service award by the RCA in 2010. K3LR was honored as Ham of the Year for 2015 by the Dayton Amateur Radio Association. Tim is the Chief Operating Officer and General Manager at DX Engineering. He is a graduate of the Pennsylvania State University.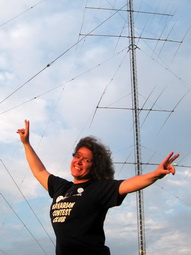 Team Mate:

Sandy Raeker, DL1QQ

Other callsigns:
N0QQ, DR8A
Country:
Germany
Age (WRTC 2018):
XX
Previous WRTC experience:
Competitor: 2014
Occupation:
Police officer
I was first licensed at the age of 15. My history teacher at high school (DK2JX) got me interested into this great hobby. From the beginning I fell intensely in love with contesting. SSB is my preferred mode, but I also like CW. I attracted my younger brother Adrian into Amateur Radio as well, he is now DL4QQ.
As a senior in high school I was a foreign exchange student in Minneapolis, MN, where I got my US Extra Class license (now N0QQ).
I have operated Single-op and Multi-op from many contest stations like K3LR, DR1A, DL0CS, T70A, 4U1VIC, S59ABC, W0AIH, ED6A, 9Y4W etc.
As the president of my local radio club (Z78) I am in charge of organizing Field Day events, where we expose other hams to getting on the air. Unfortunately, I am not able to have my own radio setup at my apartment, but I can use a jointly owned location in Ottenstein where I operate many of my single operator events. Since 2012 I also hold the contest call DR8A.
My contesting high light so far was the participation as a competitor during WRTC 2014 in Boston.
<<< Sponsored Team #2 <<<
>>> Sponsored Team #4 >>>
Back to overview Competing Teams