Team Europe - EU #3_5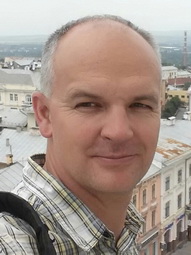 Team Leader:

Vyacheslav Zhuk, US2YW

Other callsigns:
UW5Y, ZA/US2YW, EI/US2YW, SV2/US2YW
Country:
Ukraine
Age (WRTC 2018):
44
Previous WRTC experience:
n/a
Occupation:
Engineer
My father, Oleg, UT0YO (now SK) was a member of Chernivtsi Regional Team on Ukraine radio team championship (VHF) before I am born. Of course, from my early childhood I had a dream - to get into the regional team and participate in competitions. Made first QSO in 1986, and since 1987 I have been present as an observer on this competitions. In 1988 got first licence - UB5YAR, and in 1989 in age of 15 take part in VHF Team championship of Ukraine. In 1990 was first HF Ukraine RTC attempt. In 1994 got new call - US2YW. Since 1996 rise own activity on VHF contest, occasional take part on most HF contest. Operated from Ukrainian mountain Karpaty, collected more than 30 different places and mountains, up to 2061 m a.s.l. It was completely field conditions, with the arrangement of tents and mobile antennas. Real big advantage was visit UZ2M position in 2009, it was a turning point for the HF contest from VHF. Member of UW5Y and UZ2M Teams in last years operated in contest also from EI1Y, HG7T, LY4A. Favorite is mixed (CW and SSB) operational in contest. I'm very happy to be qualified for WRTC 2018 in Germany, and and see it as a chance to see the famous contesters in the World.
Team Mate:

Iaroslav Oliinyk, UW7LL

Other callsigns:
UR5GKV UT7GX UZ2LL UV1G US7L SP1/UW7LL SV9/UW7LL
Country:
Ukraine
Age (WRTC 2018):
30
Previous WRTC experience:
n/a
Occupation:
Radio Engineer
I got involved with Ham Radio when I was 11 years old in my home town of Nova Kakhovka, Kherson reg., Ukraine.
We had a tour to the City Children's and Youth Technical School where we were demonstrated all kinds of technical activities and sports. There was a Radio Club at that school, and that's where I first saw real Ham Station. I liked it there so I joined and at first (since the weather was good) I began my training in ARDF a.k.a. Fox Hunting, but when the cold season came I started to attend Club Station and made my first QSO using club's call UR6GWJ. 8 months later in the year of 2000 at the age of 12 I received my first license UR5GKV.
Contesting and DXing quickly became my favorite hobbies and then in 2003 when I was 15, I changed my call to UT7GX. After the finishing High School I continued my education at Instrument-making College in Nova Kakhovka where I was an active member of College Club station - UR9GXB. After graduating from College I joined Kharkov National University of Radio Electronics where I became a member of the well-known Club Station UR4LWC / UT7L. It was one of the best Contest Club stations in Ukraine at that time! Unfortunately nowadays it is not active anymore.
In 2008 I changed call to my current UW7LL. In 2011 I was assigned to Ethiopia for work and I was pretty active first from ET3AA, and later ET7L as a part of the team.
In the recent years I was pretty active in Contests from our Club Station UT2GWW / UT2G in Kherson city, where we built few towers with quite a lot of Beam antennas and constantly improve out equipment.
My favorite modes are SSB and CW though sometimes I may be heard on different digital modes.
Along with my current WRTC partner US2YW we went to Carpathians Mountains several times for participation in VHF Contests!
I'm really grateful to Slava US2YW for choosing me as his WRTC partner. It is going to be a first WRTC for both of us.
<<< Team Europe EU #3_4 <<<
>>> Team Europe EU #4_1 >>>
Back to overview Competing Teams