Team Europe - EU #1_1
Team Leader:

Gediminas Lucinskas, LY9A

Other callsigns:
LY3BA, S512T, R32R, W1A
Country:
Lithuania
Age (WRTC 2018):
62
Previous WRTC experience:
Competitor: 2000, 2010, 2014
Occupation:
Telecommunications Engineer
SWL since 1970, my first CW QSO back in 1972, first personal callsign UP2BCR received in 1975. After entering Kaunas University of technology (former Kaunas Polytechnic Institute) and joining University radio club in 1973 I was hooked on contesting for the rest of my life. Most of the joy I got while contesting from my native club as a team member of UK2PAF, UK2PCR, UP1BZO, LY2ZO, LY7A, participating in Contest expeditions to Georgia as UF6A, RF3V, UP3BA/UF, to Qatar as A73A and from recent WRTC-training trip to DP4T. WRTC-2018 woul be my 4th attempt.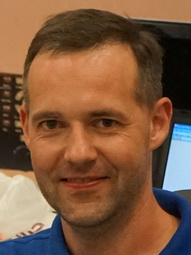 Team Mate:

Mindaugas Jukna, LY4L

Other callsigns:
LY2UF
Country:
Lithuania
Age (WRTC 2018):
43
Previous WRTC experience:
Competitor: 2014
Occupation:
Top management
I was thirteen in 1988 and there was a geography lesson where the teacher came in with some guy. He offered to visit the school's radio club where everybody could talk to people from other countries. Those days it sounded like fiction and my only connection with foreign countries were my pen pal friends. I and another classmate, now known as LY4I, were hooked straight away. It was an incurable radio disease. A year later my younger brother, now known as LY4Y (aka M0UNN) was infected as well. First contest - 1989 CQWW SSB as UP1BXT with first night spent at school radio shack and using sleeping bags on school desks. It was cool! Now I realize why I am in love with team contesting. January of 1990 I received my personal ham radio license as LY2BUF. It became LY2UF soon afterwards and LY4L in 2006.
In 1993 I became a student at Kaunas University of Technology and joined KTU Radio Club. There I met Algis LY2NK, my radiosport teacher. At KTU RC and at LY7A radio station the hobby transformed into a passion for radiosport. The biggest kick was to operate from LY7A, because my home shack was just a modest radio and w3dzz antenna. Now I have a permission to use one 60 foot tower at my mother-in-law's property with a four-bander antenna and some wire antennas.
I am married and father of two nice children. In workdays I am CEO of the manufacturing company which produces packaging from paper pulp.
This WRTC will be my second Radiosport Olympic Games. It will be the honor to meet the best contest men and have an eye ball with radio friends from near and far. Remembering the last WRTC we gonna take 3 spare PCs to avoid the mess and to show what we can do with great man Gedas LY9A.
<<< Team Asia AS #6 <<<
>>> Team Europe EU #1_2 >>>
Back to overview Competing Teams